Discussion Starter
·
#1
·
As many know, Honda has decided to make it incredibly difficult to swap out the factory audio head for something nice and modern. Not only the trim panel itself is non-standard, curvy and actually slightly narrower than a typical car stereo, it also integrates a number of non-audio related features, namely:
Climate sub-display above the audio controls. This is kinda the biggest inconvenience.
Trip computer display- mostly fluff info.
Various diagnostic functions/setup menus. Only needed once in a blue moon.
One option that I see most commonly - and one that I went with myself - is to leave the OEM audio unit in as-is and still powered, and mod the top of the dash to install the new head unit in place of the display. That is what I did in my 2013 EX, and am quite pleased with the results. My thread about that overhaul, as well as a thread by DMG about a similar mod can be found in 'Audio and Electronics'.
However, I kinda been thinking about potentially an alternative method: retaining factory display, and partially gutting the factory head. After all, large part of its volume is occupied by the CD module. Because of how the trim is done, the only units that really would 'work' are the folating screen ones: a single DIN body, and a touch panel attached to it.
You can find the EX/EXL audio unit for like $30 on ebay, so I ordered one:
The Navigation head is a fair bit different in configuration, and the cheapest I could find it on ebay for is like $150. I think I'll pass for the time being. In any case, from pictures, the internal construction appears fairly similar.
Looking from this side, one can see that there is a front module housing the controls, bottom module with the electronics, and a top module for CD.
Once it all is disassembled, CD part connects to main board with a single ribbon cable, and looks like it can be removed without much fuss. Once that is done, you got a lot of room to work with:
But the big problem is the controls module. That is the part where most attention will need to be paid:
This is its look from the rear. Two black connectors on the bottom are where it attaches to the main board, and the small separate module on top connected by a short ribbon cable is the climate controls display.
Now the idea here is to retain various non-audio features of the audio unit. The BEST option here is one of Pioneer modular units, such as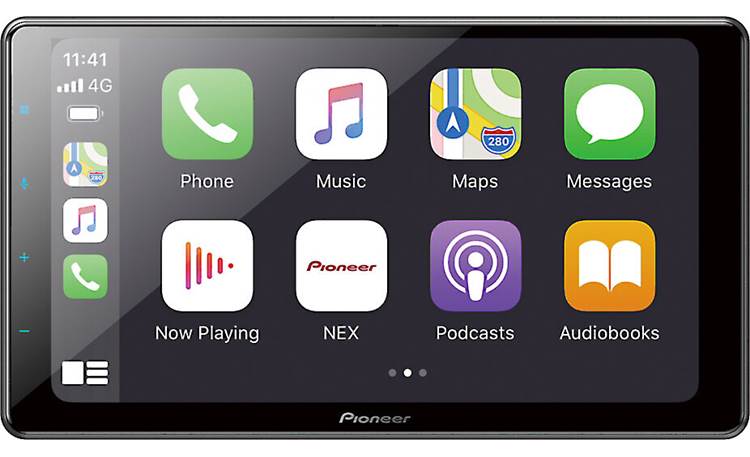 Digital multimedia receiver (does not play discs) — modular design for problem installations
www.crutchfield.com
The screen mounting brackets would need to be modded a bit, but the whole screen can be installed without altering the front circuit board at all, entirely through the CD slot. Anything else would require some cutting.
Question is: what CAN be cut? This controls PCB may look complex, but really most of it is leads going to various button contacts and illumination LEDs. The real big cheese are the leads going to the climate controls connector.
A bit of circuit analysis shows that the red rectangle part can be cut out - this would allow installation of pretty much any floating screen head - Boss, Sony, Alpine, Jensen etc.
There is another issue, however. If you want to use stuff like trip computer etc, you need to be able to unlock your audio unit after battery disconnect. For a native head, that just means holding power button for a while. If you gutted a used one from ebay, it means entering a code. Which KINDA means your power and preset 1-6 buttons need to work, and they are right in that cutout area.
A bit more poking around identifies 7 lead groups going into the chip that service all the presets and power button. One could put together a small sub-PCB with 7 micro buttons, connected to the main PCB via 7 wires - that would allow use of the number buttons. Technically, same can be done for climate display as well - just run some wires from black connectors on bottom to the white one on top - then pretty much entire middle portion of the PCB can be removed.
When I have a bit more free time, I plan to actually carry this through on this unit, to see if it indeed retains desired functionality.