Nobili spiritus embiggens pequeño sparus tyre.
Discussion Starter
·
#1
·
Battery died. It was a no-name I got installed
along with a replacement alternator about 3½ years ago
. Actually, it does have a name, and a very Canadian logo, but I'd never heard of the company, which seems to be some local whatever outfit.
Pol-R > About POL-R
The starter churned a little, then clicked. Dash lights dimmed. No starty.
Luckily I was at home in my (unheated) garage and I knew what to do, among other reasons because I've been hanging around this fine forum for a while, with its wealth of knowledgeable and helpful members.
I hooked up (positive first, negative second) my vintage Canadian Tire battery charger which is so old it might have seen service during the winter of '44-'45 recharging Allied tanks as they plowed through the Siegfried Line (after which Gen. Patton was quoted as saying that fixed fortifications are a monument to man's stupidity).
After 15 minutes or so my Pilot had enough of a charge to start, and I drove about a ½ an hour to a Walmart and got the second to last
EverStart Maxx 24F
left, with its 725 cold cranking amps. I had brought my tools in case I had to install it in the parking lot if my Pilot wouldn't start again, but the drive over had recharged old Pol-R battery enough to get it going again, and anyway it was night and snowing so I just drove back home.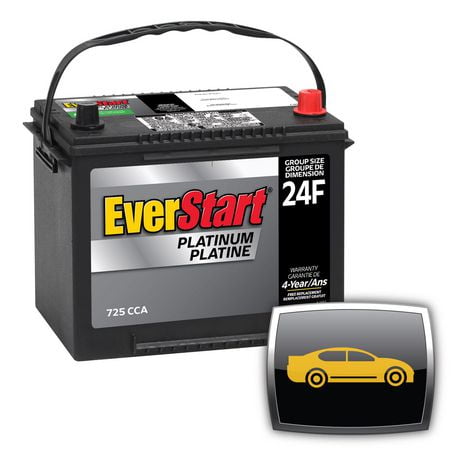 The next day I tried to start it again, and I had the same labored cranking followed by clicking. OK, that confirmed it; it wasn't a fluke: the battery had shuffled off this mortal coil.
Now the hardest part: I had to find my proverbially ever-elusive 10mm socket. Damn, I thought it was in my main kit, and I must have tried for 20 minutes to no avail.
Fortunately, I finally found one in another socket set. ?
Disconnecting the negative cable first, I moved it out of the way an lay it on an old glove to avoid it making contact with anything. Then I did the same with the positive, but a swivel socket helped in that case because of a tight fit.
The bracket was more of a booger than I would have anticipated, though, as the the threads protruded just enough beyond the (10mm, again!) nut so as to prevent my socket from reaching it. Wish I'd had a deep socket set, nuts. But a few turns with a pair of good ol' Vice Grips and I was back in business.
And now a word of caution. Do not drop the two brackets, which have sort of half hooks at the bottom you turn to free them, lest that be the last time you ever set eyes on them as they descend into the bowels of the engine bay.
Then I pulled the old battery up and out. Which weighs more, a pound of feathers or a pound of lead? Lead acid batteries are not featherweight.
I reinstalled the new battery and tightened the bracket nuts to the Goldilocks region so that the brackets held the battery snugly but that the nuts were high enough to catch on my standard length sockets the next time. Then it was reconnect the positive cable followed by the negative cable.
Ant then, the moment of truth. It started up zip-a-dee-doo-dah. I let it run 10 or 15 minutes in case it needed a bit more recharging. Then I went home and to bed.
My last remaining unresolved doubt was if the drain had been caused by an old age/no-name battery or a parasitic drain. As I didn't have any reason to go out, I let it sit in the unheated garage for 2 or 3 days. Then came the moment of ultimate truth...
It started and has been fine since. This was last week.