Glorificatus Oleum Mutante
Still using Honda DW-1? Prob not. I have my trans flush and fill done at somewhere other than the dealer.
Have you owned since new? YES
Did it ever have the transmission Judder TSB preformed which is 3 drain and fills with a software update? Not that I am aware of.
When the cruise control is set, do you see any fluttering of the rpm gauge? Never noticed any. I do notice a rumble and some fluttering at lower speeds, but it seems to be more about the VCM and less about the transmission.
If you want to end the chance that the VCM is causing any problems like judder, disabling the VCM will usually take care of this plus any possible torque converter clutch lock issue. The reason this is so important is if the clutch plate is not holding firm after shifting, this will cause excessive wear and shorten the life of the transmission. I'd continue to monitor the color of the transmission fluid and continue changing the fluid more often than what is recommended.
Deactivate Honda VCM in 3.5L V6 SOHC engines. The S-VCM Controller is an automobile grade, high precision tool that can reliably disable VCM 100% of the time, and would safely bypass in case the engine overheats. It does not use a fixed resistor or manually adjusted potentiometer, and is a much...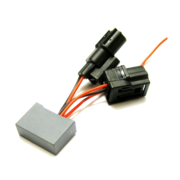 www.svcmcontroller.com