Tools & Parts:
Firestone "Coil-Rite" Air Bag Helper Springs Model: 4179
Neiko Titanium Step Drill Bit
Sockets Size used: 19mm (wheel lugs) 17mm (control arm), 14mm (sway bar & bumper bolt), 12mm (brake line).
Jack Stand, Jack and factory jack.
A Drill
A rubber mallet or hammer
WD-40 (soak all the bolts 1hr before the job)
Hex Wrench Kit
I took the stock measurement from ground to fender.
Before
Front Driver : 31.75"
Rear Driver: 31.625"
Front Pass: 31.625"
Rear Pass: 31.625
After
Front Driver : 31.75"
Rear Driver: 32.75" with min pressure
Front Pass: 31.625"
Rear Pass: 32.75" with min pressure
I'm not sure about the pressure in there at the mean time because my tire pressure gauge is out of battery.
Here you see how the factory jack is used to raise the car, and the jack support the rear end. The brick is optional but helpful if you have some around.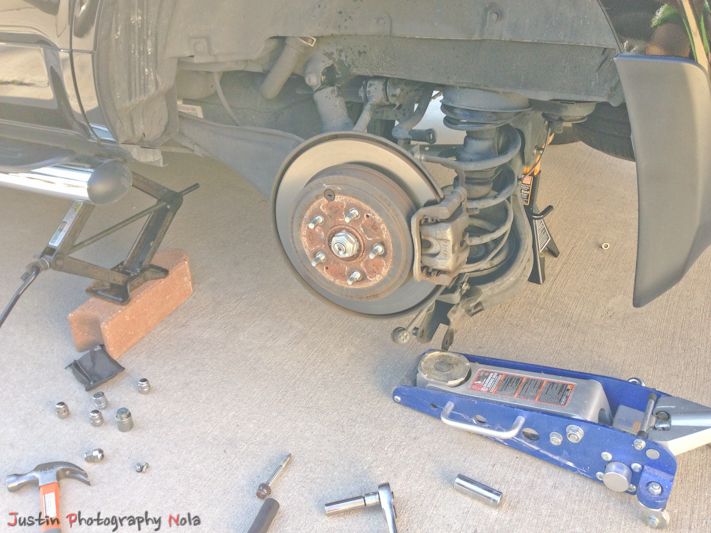 I got the control arm drop by a 17mm bolt, and the sway bar a 14mm bolt with the use of the second jack to held the control arm up a bit in order to remove the bolts.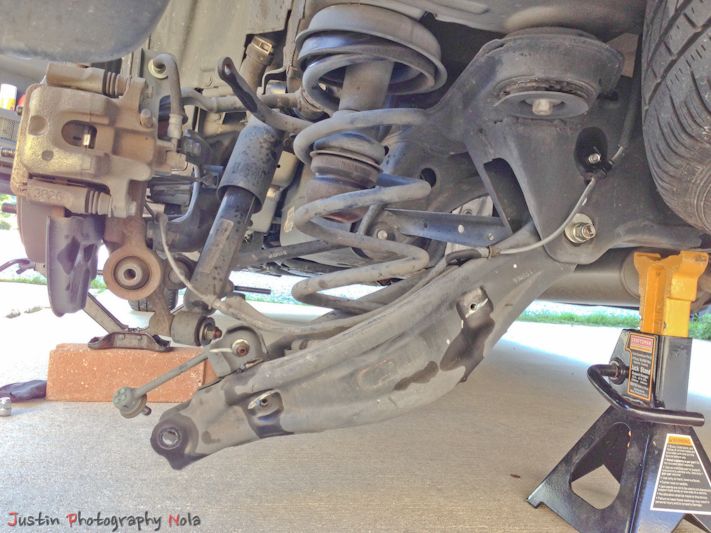 I found it easy to remove the top sway bar bolt.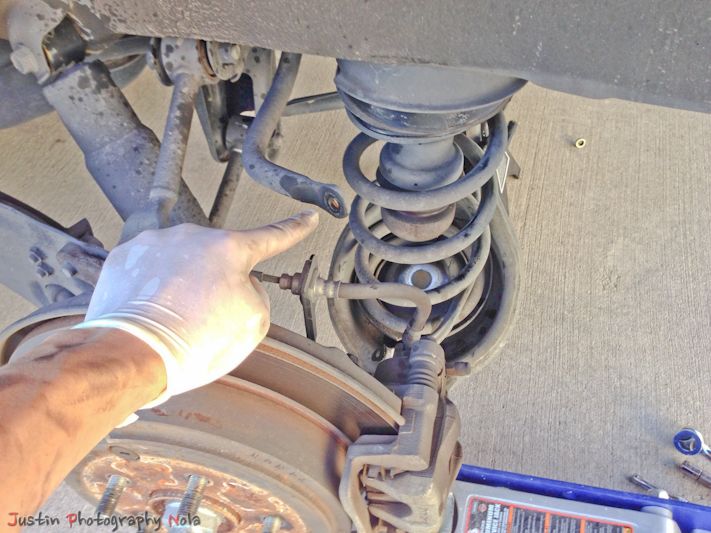 You'll need to remove the spring in order to have room to remove the 14mm bolt that hold the stop bumper. To remove the spring you use your feet to step on the control arm and push all the way toward the ground the spring will fall out.
Here you see where the stock bump stop made a mark on the control arm, I use this to guide my hole for the air line.
It's best to drill the a bit down to the right by 1/8 of an inche so it will line up with the air bag perfectly.