Discussion Starter
•
#1
•
I bought a 2019 touring two days ago and I had to take it back to the dealer yesterday.
It looks like the built in At&t cell wasn't setup properly before it left the factory. This makes the Honda link, hotspot and the emergency button on the ceiling all not work. The dealer didn't know what was wrong. Knowing that the electronics are basically a transplant from last years Odyssey I did a little digging and found some people with the same problem on an Odyssey.
My symptoms include:
If you select At&T button on the touchscreen you will get a message "Service not supported. The At&t hotspot feature is not available in this vehicle"
If you push the blue or red button on the headliner it will say something like "this feature requires a active subscription please refer to owners manual or contact client relations for assistance"
If you try to setup Honda link it doesn't work properly and if you select "activate remote features" it will say "Your free trial eligibility period has ended"
I spoke to Honda link and At&t on the phone and both were confused. The only progress I made was when I found a similar problem on odyclub.com.
You can check by going into the diagnostic menu. You hold down Home, Brightness and the volume button until you see a new menu pop up.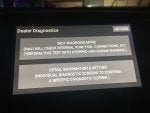 select" Detail information & settings"
select "Unit Check"
Scroll down and select "TCU Diag"
Then there will be a screen with your TCU info. If you have MSISDN flowed by all zeros you have the same problem.
The dealer got on the phone with Honda support and they have taken over the case. Other people who have had this problem said that one they figured it out they send an over the air update to the modem it's fixed.
Currently it's still not working and I'm waiting and pissed that my new car is already back in the shop. To the dealers credit with a little pressure they got me in to the shop within an hour.
I'll let you know how this progresses.