2004 air mix motor - cleaning
---
After reading this thread I decided to take my motor apart and clean it as a first try to fix my strange hvac noise.
Gurgling / Grinding from under dash near HVAC...RESOLVED!!
The list price for a new mix motor is $274 so, if I could put that purchase off for a few more years that would help.
(I set the hvac to full cold (low) before removal of the motor)
The motor is located under the dash on the passenger side:
There are 3 screws holding the motor in place. The metal arm (with a plastic lock on the end) as well as a white plastic stud are the business end of the 'mixer' that do the actual "dual adjustments".
Here is the motor opened up:
There are 5 plastic tabs that hold the motor together as shown above (along with the 3 screws). Those plastic tabs are fragile and will most likely break as you take the motor apart (use caution).
Flip the motor over and remove the plastic adjuster arm (push the lock tab over and slide the arm straight up):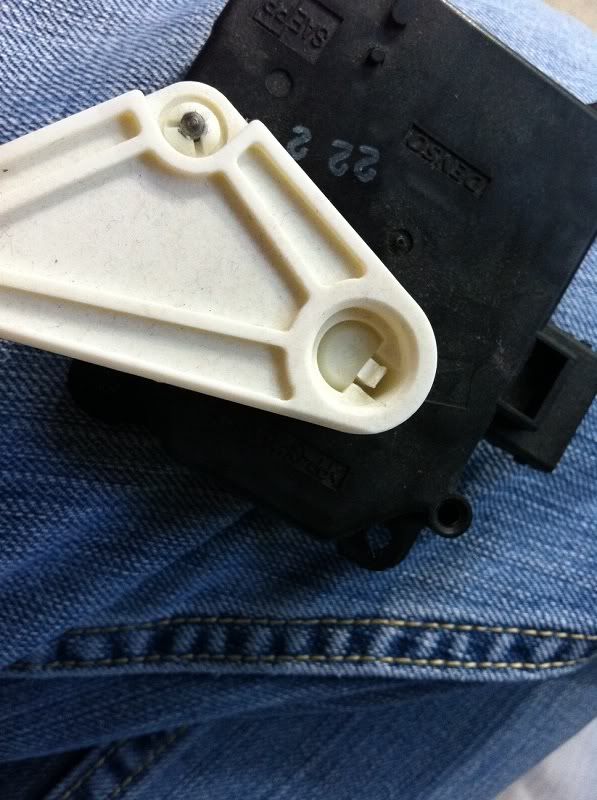 Mark the position of the gear (I am not 100% sure if this is "needed"(*)) before removal and this is what you see once it is pulled out: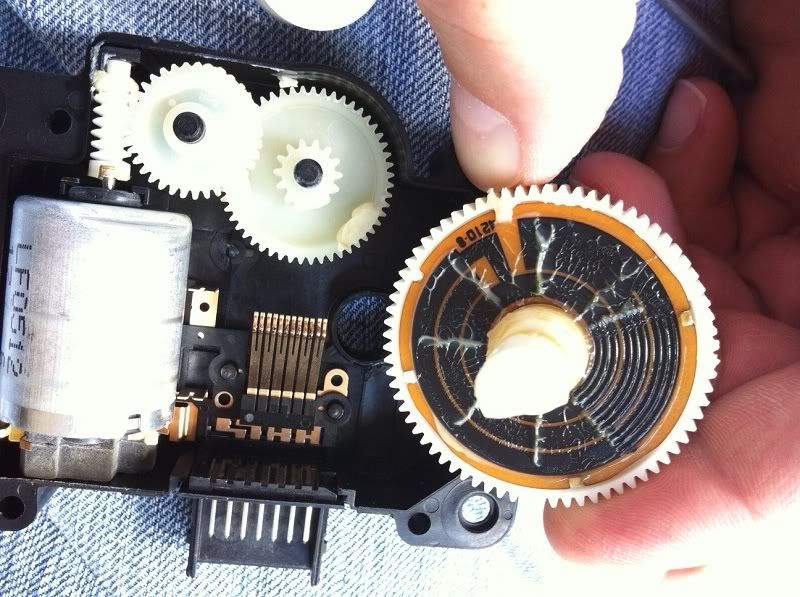 I
assume
that the 'issue' originates from the spots where there is contact between the copper tabs and the circular contact pattern on the large wheel. I just wiped all of the tabs off and smeared the grease (dielectric?) all around on the wheel. (There was some dark
stuff
on the rag that came off of the tabs.)
(*) I did not mark the position before pulling the gear off/out.
Before I put the motor back in the car (I guessed at the correct gear position), I plugged the motor back in and turned the key on. The motor turned the gear a little bit and the arm moved. I assume the mix motor was indexing itself to the correct location for a "low" hvac setting. I played with the temperature knob a little bit to see what happens (and at which temperature) when you make adjustments. After playing a little bit I set the knob back to full low and bolted things back up.
So far so good as the noise has not reappeared. :fingers crossed:
---
1984 Volvo 242Ti (repairs are underway...)
1997 MB C280
2004 Pilot EX
2008 Fit Sport
Registered User
Join Date: Jul 2010
Location: OH
Posts: 434
Feedback Score: 0 reviews
I did the cleaning on job on mine and it only helped for a couple months before the chattering was back. On close inspection of the large gear with the resistive rings on it, one of the rings was worn pretty thin. I suspect it's because I leave the temp at 70-71 most of the time and the gear hovers around that same position nearly all the time which eventually wears through the layer of material on the gear. I eventually changed out the motor and things have been OK for about 7 months now.

I can't believe what Honda charges for the air mix motor. It basically looks like a plastic gearbox from a toy car.
---
2004 EXL 4WD, 2012 EXL+NAV 4WD
Registered User
Join Date: Jun 2006
Location: Texas
Posts: 545
Feedback Score: 0 reviews
You can also try slightly squeezing the forks of individual fingers together, which forces them to follow a different (and unworn) path on the rotor carbon track. Occasionally, the carbon tracks on the rotor get burnished or contaminated and make poor contact, where a light rubbing with an eraser and alcohol wipe helps. The dialectic grease probably does no harm.
---
===================================

'12 Pilot EX-L
'08 Highlander
'02 Highlander
'03 Pilot EX (departed)
'01 Civic EX (departed)
Registered User
Join Date: Nov 2003
Location: USA
Posts: 41
Feedback Score: 0 reviews
After hearing the gurgling noise for several years, my wife's 2004 finally lost heat last week. Yesterday I removed the air mix control motor, cleaned, lubed with dielectric grease, & reinstalled. At $200+ for the part I figured it was worth trying.

After I finished cleaning it I reinstalled, but it didn't work. Hmm. Maybe the part's bad after all? With nothing to lose and following the troubleshooting instructions in the shop manual I took the motor out & applied 12V to terminals 1 & 2. The motor worked! Put it back in & it's been OK since. Maybe there was a capacitor or something in the step motor that needed a "bump" of some sort.

Anyway, the heat's back...and thanks to the OP for saving me some $$.
---
2004 SS EX-L. Side steps, full towing package, cargo tray, cargo cover, auto mirror, roof crossbars, full-size spare, Husky floor liners, wheel locks.
Registered User
Join Date: Jul 2013
Location: Florida
Posts: 44
Feedback Score: 0 reviews
Just wanted to post that this fix worked for me as well. Took out the old part, cleaned it and added some dielectric grease and put it all back together. Has been working fine for a week now with no annoying gurgling noise. Sure beats spending $200 on a new dealer part. Thank you for the valuable info and super easy fix.
Registered User
Join Date: Nov 2014
Location: NJ, 07087
Posts: 2
Feedback Score: 0 reviews
Hello. Trying to do same thing myself.
Unscrewed 3 screws but motor is hanging now. I cant figure out how to disconnect metal rod without breaking something.
Any advice, instruction or successful technique how to disconnect it?

* Googled solution to my gurgling noise HVAC problem and found this amazing forum. Thanks everyone for sharing your experience with pics and step by step instructions !
Registered User
Join Date: Dec 2014
Location: Dallas
Posts: 2
Feedback Score: 0 reviews
Registered User
Join Date: Jun 2004
Location: Virginia
Posts: 77
Feedback Score: 0 reviews
I had tried to clean mine. There were grooves worn in to the contact surface on the gear. It worked better, but was still causing issues. I found a replacement part on eBay for $70. Works great now.
---
2004 Honda Pilot EX-L Sandstone
Running Boards | Trailer Hitch | Rear Splash Guards | Cargo Tray | Full Size Spare | Thule 996 Expressway 4-Bike Rack | Covercraft UVS100 Sun Shade | All Season Mats |
Other Hondas / 2011 Honda CR-V | 2003 Honda Civic
Previous Hondas / 1997 Honda Odyssey | 1990 Honda Accord | 1984 Honda Accord
Registered User
Join Date: Apr 2015
Posts: 2
Feedback Score: 0 reviews
I have the same air mix motor problem on my 2004 Pilot and appreciate all the good info here. I am going to try and fix it but am having difficulty getting to it. Laying on my back on the passenger seat floor squeezed between the seat isn't getting it done. Am I missing something or do I need to train my 10 year old grandson to get in there for me.
Registered User
Join Date: Aug 2011
Location: Florida
Posts: 13
Feedback Score: 0 reviews
Fixed my chattering motor and the heater problem!!
---
Thanks all for the great posts on this topic! Fixed my 03 Pilot in a snap.
Indymcman, it's a little tough to get to and I wish I had my grandson around also! Even with the lower panel of the center consul removed it's tight. After unsnapping the passenger side lower console panel I removed the connector and the 3 Phillips head screws. The tough part is removing the plastic clip that holds the rod in place. I found the best way to do this was to get a good look with a flashlight then use the end of the flashlight to push off the snap retainer. I carefully took the motor apart by flexing the snap retainers around the edge and I did break 2 of them. I fixed these with a dot of super glue after reassembly. I marked the gears to make sure I put them back together in the same relative position then removed the big gear as described. It had a LOT of grease contaminated with black graphite looking stuff, probably from the contacts. So cleaned it all real good with alcohol. Then I smeared a very thin coat of dielectric (the same used for spark plug wires). So far it's working perfectly. In addition to the grinding noise my heater wasn't working right before this operation. It wouldn't heat unless I turned the dial all the way to high. Then I could back off and it would get to a warm instead of HOT. It turns out the heater valve wasn't opening and it is actuated by a cable that is pulled by this motor and I never realized it. So the heater issue is fixed too!
My Pilot has 175,000 miles on it and everything works perfectly now. I would have bought the $200+ part but it sure is nice to avoid this. I'm just hoping the transmission holds up for a few more years.
Over the years I've gotten all kinds of help here including replace window regulators, headlight cover replacements, repairing the rear a/c resistor, and regular maintenance. All the time I save the labor costs and a lot of the time I repaired parts instead of buying new thanks to all of you! Many thanks all, this is a great community!!
---
Last edited by Sailright; 06-13-2015 at

10:17 PM

.
Defect?
---
I am not sure if anyone has taken the time to check this, but after I reinstalled my mix motor on my 2005 EX-L (NAVI), I went through the temperature dial from LO to HI (60, 61, 62, 63 degrees, etc) and found that it does not move until around 75 degrees. I tested my in-laws, who have the same model year (LX) and theirs moves with each click on the dial. Is mine auto temp/climate related or is this a defect? The garage was probably in the 60s. I had the same issue with a remanufactured one I bought on eBay. The guy who sold it to me mentioned the auto temp feature might play into it. I just want to see if anyone knows before I send it back and buy a brand new one. This is just bugging me.

Thanks, in advance.
Registered User
Join Date: Jan 2016
Posts: 1
Feedback Score: 0 reviews
---
2004 with same sound for who knows how long! I am going to try this fix this weekend! Thanks for all the info and pictures!